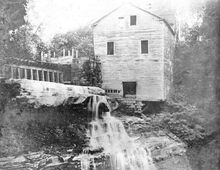 Once the site of a thriving mill town, Bloodwine Village experienced a boom from it's beginnings in the civil war up until 1905 when the Onondaga river was diverted. While the creek still flows over the falls, the three-story mill no longer functions and has remained derelict for years. Not far from the site the Coshocton Mound Complex, stories of killer wolves and indian ghosts are spread by all around the county.
Ad blocker interference detected!
Wikia is a free-to-use site that makes money from advertising. We have a modified experience for viewers using ad blockers

Wikia is not accessible if you've made further modifications. Remove the custom ad blocker rule(s) and the page will load as expected.