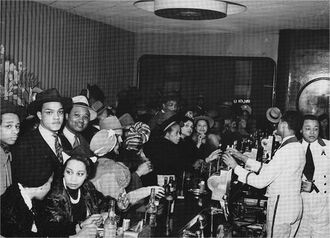 Locked out of white-only bars, Club DeVille in Central Financial District has become renown on the Chitlin' Circuit for hosting such greats as Count Basie, Cab Calloway and Duke Ellington, as well as various burlesque acts and even blues. Integrated crowds and acts often lead to raids by police with the pretext of enforcing the Mann Act.
Ad blocker interference detected!
Wikia is a free-to-use site that makes money from advertising. We have a modified experience for viewers using ad blockers

Wikia is not accessible if you've made further modifications. Remove the custom ad blocker rule(s) and the page will load as expected.