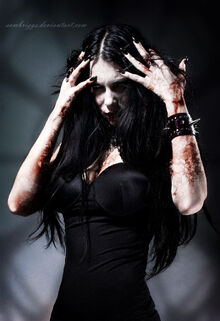 Francesca Rossellini has only known the world through the lens of the Family. Born at the end of the High Italian Renaissance, she was groomed for embrace and necromantic study from mortal birth. She received the Proxie Kiss from Achille Rossellini serving by his side throughout the ages. She has weathered the tumultuous wars and politics of northern Italy under the guidance of Achille she has developed into a cunning socialite and Necromancer. Recently, she's been dispatched to New Dresden to manage family affairs in the Midwest.
She resides close to the University's medical campus and is rarely seen in public without her body Ghoul, Maso Giovanni. A wide, muscular man of Italian lineage. She carries a dark somber air with her as she enters the room combined with her libertine personality.
Ad blocker interference detected!
Wikia is a free-to-use site that makes money from advertising. We have a modified experience for viewers using ad blockers

Wikia is not accessible if you've made further modifications. Remove the custom ad blocker rule(s) and the page will load as expected.