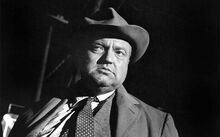 Once a great bull of a man, he tore around the streets of New Dresden like a man with his pant leg caught on a rocket. His career is legendary and he is still the most detecorated Detective in New Dresden. For a time his name was more common in the newspapers than the weather report. He caught Podlowski the Hospital Killer, he collared Simon "The Knife" Ludlow and he put Guiseppe Lazzarini in prison. The first and only time charges had been made to stick on a New Dresden wise guy. However years of constant stress, a divorce, the loss of a child, and twenty years of departmental bullshit running over him like a river have taken their toll. He still holds his place as a lead Detective of Homicide a post which he's likely to keep until he's put underground.
Ad blocker interference detected!
Wikia is a free-to-use site that makes money from advertising. We have a modified experience for viewers using ad blockers

Wikia is not accessible if you've made further modifications. Remove the custom ad blocker rule(s) and the page will load as expected.