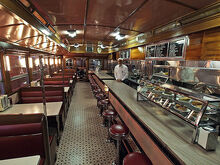 Located in New Bohemia, the Gubba Grub is one of the more off-center eateries in town. Built inside a rail car, the place is the center of jazz, beatnik and alternative culture. The Aussie owner is never quite in the same time zone as the rest of the place, but it has the meanest cup of joe and the hottest jazz records around. Jazz cigarettes not included.
Ad blocker interference detected!
Wikia is a free-to-use site that makes money from advertising. We have a modified experience for viewers using ad blockers

Wikia is not accessible if you've made further modifications. Remove the custom ad blocker rule(s) and the page will load as expected.